Preschool Reading
The following preschool reading worksheets each show several words that begin with a specific letter.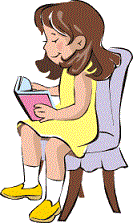 With picture prompts, children will be able to see and read the word. More importantly, they will have the opportunity to see several words that begin with the same sound. Seeing several pictures reinforces the sound that each letter makes, especially if the words are pronounced out-loud.

Once your child is reading fairly well, cover the pictures and encourage reading (or sounding-out) without the prompts.

To print, simply click on the printable of your choice. This will open the file in PDF format. Please keep all copyright information intact.

---
---
Some tips for teaching your child to read:

Read to your children. If possible, on a daily basis. Let the child choose the books and as you read, run your finger under the words. This helps children to see the correlation between what they are hearing and seeing.
Teach lower case letters first. More attention should be given to the lowercase letters because Capital letters account for only a small percentage of all letters in written English. As far as reading skills are concerned, it's the lowercase letters they will need to know. Work on only a couple of letters at a time, so children are not confused and will be less frustrated.

After a child can identify letters and sounds, teach them rhyming words. Make lists of easy-to-read rhyming words such as man, pan, can, fan, etc. This will encourage your child to see the patterns of sounds that are made when certain letters are combined.
Once children are easily reading 3-4 letter words, you'll be able to move forward with the sight words.

Lots more preschool printables...

from preschool reading to alphabet main page