Childrens Alphabet Cards
Childrens alphabet cards are low-cost, educational, portable and can be used in a multitude of ways.
Hold the cards up one at a time to introduce new letters and sounds
Once several letters have been learned, lay the cards face up and say either the letter or sound. Let the child choose the correct card.
Lay larger cards on the floor and have the children stand on the letter you call out.
Use the flashcards as wall décor for a constant visual aid.
Mix up all the cards and help the child to line them up in order.
To print, simply click on the printable of your choice. This will open the file in PDF format. Please keep all copyright information intact.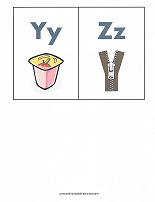 Here's a set of A to Z food cards that are large enough to use as wall or floor cards.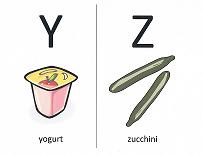 This smaller alphabet set of animals is great for table top use. Laminate the entire page for use in reviews. OR... cut into individual cards. Once the alphabet has been learned well, have the kids try to put the cards in order.

More alphabet Fun...

The series, Learning Letters allows the children to trace a letter several times and color some pictures that start with the same letter.
There are also alphabet coloring sheets that each have several pictures to color that all begin with the same letter. Every letter from A to Z!
Alphabet Flip Book - A low-cost mini photo album and free printables are all you need to create this fun way to learn the alphabet.

Alphabet Worksheets - Learn letters and their sounds in a fun way.
from childrens alphabet back to home page