Kids Activity Pages
Graph Art Made Easy!
For some fun kids activity pages, try graph art! Typically graph art involves coordinates which are far too complicated for young children.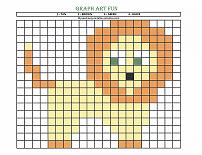 The following graph art pages make it easier for preschoolers. As easy as... color-by-number! Each grid is a simple page of squares. The directions are easy. If there is a number in the square, the square will be colored according to the color key at the top of the page. If there is no number, the square is left blank.
What makes it even more fun for kids is that unlike regular coloring pages, where you see the picture before you start to color, with graph art you see the picture as it's forming. There is no indication on the graph to show what the picture will be. It makes it more of a "magic" picture, especially with preschoolers. Kids in grade school, however, will also enjoy these activity pages.
Some of the graph art pages are perfect for holiday activities, others work well for any day of the week!

To print, simply click on the printable of your choice. This will open the file in PDF format. Please keep all copyright information intact.

Train Graph Art

Duck Graph Art

Heart Graph Art

Sailboat Graph Art

Tractor Graph Art

---
---
Lion Graph Art

Pumpkin Graph Art

Butterfly Graph Art

Christmas Tree Graph Art

Bunny Graph Art

Enjoy all the graph art pictures. Should you have a group of children, give each child a different picture. It's every bit as much fun for them to see what other kids are making.
And, be prepared... many children will want to do more than one.

More ways to have fun with colors:
Color-by-number coloring pages - Kid friendly pictures for children's coloring fun.

Color Wall Cards - Cards for each color. Shows both the color name and several items for the color. Place the cards in a prominent place as a visual aid.
Color Worksheets - assorted activity pages for learning colors and color name recognition.
Color Flip Book - An easy to make flip-book for learning colors. All you need is a mini-photo album and the free printables.
Colors coloring pages - Worksheets for each color, with several items that are typically a particular color. Only one crayon needed per page!

from kids activity pages to home page