Color by Number Coloring Pages
Preschool Fun with Colors
Color by number coloring pages offer a unique coloring opportunity. The concept is simple. Just follow the color key to complete the picture.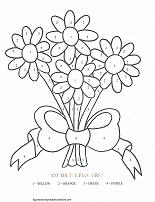 When children first use crayons, it may look like scribbles to an on-looker. Children, however, are learning that there is a direct correlation between the movement of their hand and what appears on the paper.
Coloring provides children with a project that promotes hand-eye coordination. It also involves patience, a valuable quality at any age. Color by number pages also include the concept of following directions.
So, while coloring may be seen as a simple activity, it also provides children the chance to learn a variety of skills.
Once children have learned the colors, use the following coloring pages for a fun activity kids will enjoy.

To print, simply click on the printable of your choice. This will open the file in PDF format. Please keep all copyright information intact.

The first set of coloring pages require six crayons per picture. The coloring areas are smaller, making these a bit more challenging for preschoolers.
These can also be used as part of a Healthy Eating theme. See how many of the fruits and vegetables children can identify. Ask them which foods they like or dislike.
This set of preschool printables only requires four colors per picture. Most have larger coloring areas, making them easier for younger children to color.
Choose a bunny, duck, flowers, snowman or train. Or...choose them all!
Here are some color-by-number pictures using only three crayons!
For some really colorful pictures, try the xylophone or caterpillar. Six colors each for bright, colorful fun!
---
---
Looking for color-by-number coloring pages for children... of children? Here are several pictures of children in various activities.
By the time kids are ready for color by number coloring pages, they usually have good control when they color and try quite hard to stay in the lines. They also take pride in being able to follow directions.
Should you have a group all coloring the same picture... they won't color the parts of the picture in the same order, but most kids are pleased when their pictures turn out just like everyone else.
More ways to have fun with colors:
Color Wall Cards - Cards for each color. Shows both the color name and several items for the color. Place the cards in a prominent place as a visual aid.
Color Worksheets - assorted activity pages for learning colors and color name recognition.
Color Flip Book - An easy to make flip-book for learning colors. All you need is a mini-photo album and the free printables.
Colors Coloring Pages - Worksheets for each color, with several items that are typically a particular color. Only one crayon needed per page!
Graph Art - A fun way to color-by-number. Preschoolers see graph art as "magic" pictures. Watch the picture form as you color!
from color by number coloring pages to home page