Fish Coloring Pages
And everything else "Under the Sea".

Fish coloring pages work great on their own or as part of an "Under the Sea" theme.
While children are aware that fish live in water, they may not be as aware of the other inhabitants of the ocean. Many young children have never heard of an eel or a swordfish. Many have no idea what a shrimp looks like. Coloring pages offer a fun way to look at something new.
Choose a fish to color or choose a dolphin, crab, octopus, starfish, seahorse, seashells and more...
To print, simply click on the printable of your choice. This will open the file in PDF format. Please keep all copyright information intact.

Start with a simple coloring page that includes many ocean critters...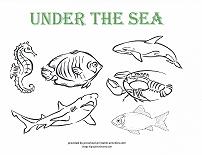 There are many kinds of fish. Choose your favorite and print!
Dolphins are always a favorite for kids. And for many adults too.
While learning abut the ocean, don't forget about the starfish and shells that wash up on the beach.
---
---
How about a crab?
A seahorse, shrimp, or swordfish?
An eel or octopus?
Kids love learning about all the animals that live in the water. Coloring time is the perfect time to show that there is more in the water than just fish.
More fun activities for kids...
from fish coloring pages to home page