Printable Preschool Activities
All About Learning Colors
Printable preschool activities can be a big help in teaching children colors. Learning colors can be difficult concept. Showing kids several items of the same color can make the process easier.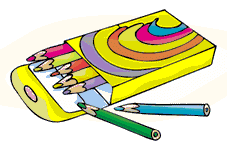 The following color matching activity is simple enough for toddlers. The concept is easy... match the pictures to the board of the same color.
For younger children, start by using only two or three colors. Once they have successfully placed the colors on the correct boards, add more colors.
To print, simply click on the printable of your choice. This will open the file in PDF format. Please keep all copyright information intact.

Start by printing out the game boards. I recommend using card stock paper and laminating to make the game more durable. Cut each of the board pages in half to create eight different colored game boards.
---
---
Next... print out the colored game cards. Cut on the lines to form nine cards for each color. Let the kids have fun matching the cards to the correct board.
This game is also a good way to help children understand colors that appear to be alike. Many children are initially confused by the colors red and orange or black and brown. Seeing the colors side by side helps them to see the difference.
More ways to have fun with colors:
Color Wall Cards - Cards for each color. Shows both the color name and several items for the color. Place the cards in a prominent place as a visual aid.
Color Worksheets - assorted activity pages for learning colors and color name recognition.
Color-By-Number Coloring Pages - Kid friendly pictures for children's coloring fun.
Color Flip Book - An easy to make flip-book for learning colors. All you need is a mini-photo album and the free printables.
Colors Coloring Pages - Worksheets for each color, with several items that are typically a particular color. Only one crayon needed per page!
Graph Art - A fun way to color-by-number. Preschoolers see graph art as "magic" pictures. Watch the picture form as you color!
from printable preschool activities to home page