Printable Flashcards
Christmas Themed Cards
Printable flashcards are a great way to teach the alphabet. Even better, during the Christmas season, are flashcards with a Christmas theme.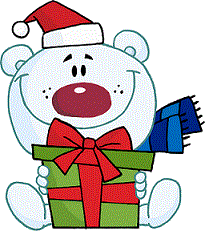 This set has 26 flashcards, one for each letter of the alphabet. Each letter also has a child-friendly picture of things children may see during the holiday season.
I recommend printing the cards on card-stock paper and laminating them. Preschool flashcards are easy to make, and best of all, they are portable! They can be used anywhere!

So, print out the Christmas flashcards below, and I'll give you some fun ways to use them...

To print, simply click on the printable of your choice. This will open the file in PDF format. Please keep all copyright information intact.

---
---
Flashcards have routinely been used as a learning and teaching tool, especially when introducing new concepts. Printable flashcards give children the chance to learn basic elements and memorize them. Short lessons, over time, produce the best results.
Preschool alphabet flashcards can make learning fun, but with beginners, only use a few cards at a time. Add cards only when previous alphabet letters have been learned. Show the card, have them name the letter and the sound the letter makes. Encourage them to think of more words that begin with the same letter. Once each of the letters has been learned, there are some fun games you can play...
Lay several cards face-up on a table and ask a child to find a particular letter. Continue until all letters have been found.
Have the child help you put them in alphabetical order. Singing the alphabet song during the process makes it even more fun.
Make two copies of the cards and make a match game. Mix both sets together. Flip them all, picture side down, on a table. Let one child choose two cards. If the cards match, the child gets an extra turn. If they are not a match, the cards are flipped back over... and another child gets a turn. Continue until all matches are found.
Place cards in a dollar-store photo album or glue to colored paper and staple together to make an ABC book.
More Christmas printables for you:
12 Days of Christmas Song – Twelve counting wall cards. One for each verse of the song. A great visual aid for counting. Twelve coloring pages, one for each verse. And, all the lyrics to the song. Because each verse builds upon the last one, it's not a difficult song for preschoolers.
Christmas Worksheets – A variety of fun activities. Teach biggest to smallest, left and right, the sounds of letters, counting, matching, patterns and more…
Printable Christmas Mazes – Several mazes to choose from, all with a holiday theme. Basic mazes, and alphabet and number mazes too!
Christmas Coloring Pages – Color Santa, snowmen, an elf, stockings, bells, a Christmas tree and more…
from printable flashcards to home page