Christmas Printables
Worksheets with a Holiday Theme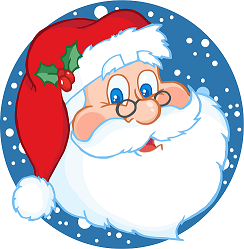 Christmas printables are a great way to continue the learning process while still keeping up the holiday spirit.
The preschool worksheets below all have a Christmas theme that will help the kids stay interested while they are waiting for the big day.
Try smallest to biggest, left to right, beginning sounds, counting, rhyming, patterns and more...

To print, simply click on the printable of your choice. This will open the file in PDF format. Please keep all copyright information intact.

Teaching the concepts of smallest/biggest or left and right?
The Christmas tree worksheet asks the children to cut out the pictures of the trees at the bottom of the page and paste them in order from smallest to biggest in the boxes provided.
The left and right worksheet tells the children to color only the left or right picture in each box.
Christmas beginning sounds is a great way to reinforce the sounds letters make with fun Christmas pictures. Each of the pictures starts with one of the letters at the bottom of the sheet. Simply have the children write the correct letter in the box below each picture.
These preschool Christmas printables allow the children to either circle or color the things they see at Christmas time.
---
---
Counting is always more fun when the items are familiar to children. Use the Christmas worksheets below to reinforce counting skills.
Here's a couple more that will have preschoolers listening for sounds. In the first one, they will cut out the pictures at the bottom and paste the items that rhyme with the Christmas objects in the boxes provided. The second worksheet asks the children to draw a line to match the items that start with the same sound.
Follow the pattern! Cut out the pictures at the bottom of the page and paste them in the correct box to follow the pattern.
Match Up has the kids draw lines from the left side of the sheet to the matching pictures on the right.
Another simple but fun counting sheet and a worksheet that has the children circle the item in each row that is different.
More Christmas Fun:
12 Days of Christmas Song – Twelve counting wall cards. One for each verse of the song. A great visual aid for counting. Twelve coloring pages, one for each verse. And, all the lyrics to the song. Because each verse builds upon the last one, it's not a difficult song for preschoolers.
Printable Christmas Mazes – Several mazes to choose from, all with a holiday theme. Basic mazes, and alphabet and number mazes too!
Christmas Flashcards – Fun flashcards with a holiday theme. Review the alphabet and play games with kid-friendly seasonal pictures.
Christmas Coloring Pages – Color Santa, snowmen, an elf, stockings, bells, a Christmas tree and more…
from christmas printables to home page