Valentine Worksheets
Valentine worksheets will keep kids engaged in learning. Bright colors and Valentine symbols can be used to teach a wide variety of skills.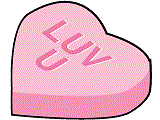 Kids are certainly interested in receiving cards from friends and family, and of course, the potential for candy...

Use the following worksheets to during the holiday time to keep kids engaged and help teach patterns, counting, writing numbers, letter sounds, the concepts of big and small and scissor skills.

To print, simply click on the printable of your choice. This will open the file in PDF format. Please keep all copyright information intact.

Valentine Patterns
Teach the concept of patterns with this fun Valentine cut and paste activity.

Cut out the six pictures at the bottom of the page and paste in the correct box to continue the pattern in each row.
Valentine Sounds
Teaching letters and their sounds? Each of the Valentine items begins with one of the letters at the bottom of the page.

Have the children write the correct letter in the box below each picture.
Count the Hearts
A simple counting sheet made fun with many colors of hearts.

Have the children count "how many" of each color, and write the correct number in the box at the bottom of the page.
---
---
Missing Numbers
Lots of hearts on this page numbered one through fifteen.

Oops... some of the hearts are missing their numbers. Have children fill in the missing numbers.
Valentine Big and Small
Teaching the concept of big and small is easier if the objects are side-by-side.

Each of the four boxes in this worksheet asks the children to color either the big or small Valentine item.
Valentine Scissor Skills
This worksheet is perfect for little ones who are just learning to use scissors.

Have them cut on the line to follow Cupid's arrow.
Valentine Counting
This simple but fun worksheet helps reinforce counting skills.

Simply count the Valentine items in each row and write the correct number in the box at the end of each row.
More ways to have Valentine's Day fun...
Printable Valentine Cards – Some are "just right" for children's Valentine exchanges, others are perfect for children to give to the important adults in their lives.
Valentine's Day Games – Print now for immediate play. Choose tic-tac-toe, word-find, dice game, Sudoku or assorted match games.
Valentine's Day Coloring Pages – Lots of Valentine coloring fun with Cupids, hearts and more…
from valentine worksheets to home page