St Patricks Day Coloring Pages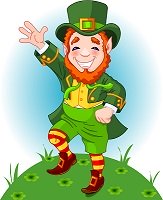 St Patricks Day coloring pages will add a bit more celebration to the holiday for children. Kids like the pageantry of this special day. Wearing the color green, watching parades, hoping to be lucky...
The best part is, you don't actually have to be Irish to be part of the celebrations. Color all the traditional symbols of St Patricks Day. Have fun with shamrocks, rainbows, a pot of gold, lucky coins, the Irish flag and more.

To print, simply click on the printable of your choice. This will open the file in PDF format. Please keep all copyright information intact.

Color a Shamrock
This happy shamrock is all ready for St Patrick's Day.

He's wearing an Irish Top Hat that holds a four-leaf clover for extra luck!
Color the flag of Ireland
Let the kids know that the holiday originates in Ireland by coloring the Irish flag.

A simple coloring page with only two colors needed. Add to the lesson by showing the children a map of the world. Point out Ireland and your area. How far from Ireland are you?
Lucky Frog
Frogs may not usually be considered lucky, but this fellow is making sure he is.

Wear a Top Hat with a lucky clover and you may just be incredibly lucky.
Shamrock Count
A fun coloring page and counting sheet in one.

Use a green crayon to color the shamrocks. Then count the shamrocks and place the correct number in the box at the bottom of the page.
---
---
Lucky Coins Coloring Page
What's really in the pot of gold at the end of the rainbow?

Perhaps coins with shamrocks on them! Let kids color their own lucky coins.
Make a Shamrock Rainbow
A St. Patrick's Day color-by-number. Each of the shamrocks is numbered for the color key.

Color them red, orange, yellow, green, blue, indigo and violet to form a shamrock rainbow.
The Pot at the end of the Rainbow
Everyone knows what you find at the end of the rainbow.The colors of the rainbow lead to the treasure.


Fill in all the colors of the rainbow (red, orange, yellow, green, blue, indigo and violet) and color your own pot of gold!
Girl with a Shamrock
Color a small girl holding a shamrock. The shamrock is rather large net to the girl... perhaps she will be extra lucky!


A shamrock is easily the most recognized symbol of St Patrick's Day.
Color an Irish Top Hat
back to st patrick's day main page
from st patricks day coloring pages to home page