Printable Preschool Worksheets
Lots of Easter Fun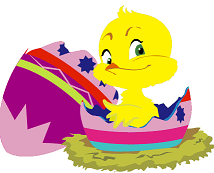 Printable preschool worksheets combine learning with fun. Counting, matching, shapes, patterns and more... all with an Easter theme full of bunnies, baskets, chicks and eggs.
Children tend to be quite excited about the Easter Bunny coming. Decorating eggs and getting their baskets ready are part of the excitement. The Easter worksheets below will help learning continue as the children are waiting for Easter.

To print, simply click on the printable of your choice. This will open the file in PDF format. Please keep all copyright information intact.

How Many Do You See?
How many of each Easter picture can you find on the page?

Write the correct number of each picture in the box at the bottom of the page.
What's Missing?
The first box shows a complete picture. Each of the other boxes has something missing.

Cut out the boxes at the bottom of the page. Paste each item in the box below the picture that is missing the same item.
Easter Word-Finds
Have some fun with word-finds perfect for the holiday!
Matching Jellybeans and Bunnies
Draw a line from the object on the left to the matching object on the right.
---
---
Shape Hunts
Try an Easter shape hunt. Each page has several shapes to look for. Find each shape in the Easter picture and color only the correct shapes. Can the kids find them all?
Easter Counting
A simple counting worksheet, full of bunnies, chicks, baskets and eggs.

Count the number of objects in each row and write the correct number at the end of the row.
Easter Matching
Here's a brightly colored worksheet full of common Easter items.

Circle the two objects in each row that match.
Easter Patterns
Two pages to create pattens. Cut out the individual cards on the second page. Use the smaller cards to create the patterns on the first page. If you have more than one child, cut the first page to create pattern strips to make it easier.
from printable preschool worksheets to home page