Preschool Easter Crafts
Simple and Printable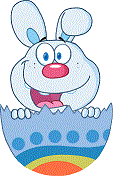 Printable preschool Easter activities make craft time a snap. Simply choose the craft of your choice... and print.  Simple supplies like glue sticks, crayons or markers, and scissors are all you need to keep preschoolers busy with these projects!
With thoughts of the Easter Bunny, children are typically in the mood for craft activities to help celebrate the holiday. At the very least, it should help with the waiting for Easter morning...

To print, simply click on the printable of your choice. This will open the file in PDF format. Please keep all copyright information intact.

Make a Tiny Easter Basket
Print out the template below. Cut out the handle and basket. Fold on the dotted lines. Glue the tabs to the sides and attach the handle. Scrap-booking tape that is sticky on both sides also works well to put the basket together.
Perfect for jellybeans!
---
---
---
Make Your Own Egg Holders
Print out the egg holder sheet on card stock paper for a firmer feel.

Use the pre-made holders, color the shapes in your choice of colors or use the blank holders to create your own designs.

Use double sided sticky tape, glue or staples to connect the ends into a circle to complete the egg holder, and set your egg on top!
---
Decorate an Egg
Print out the large egg on card stock paper. Use craft materials of any kind to decorate the egg. One example? Make an egg shell mosaic.
Clean empty egg shells well, making sure all the membranes have been removed. Let dry for a day or two. Dye the shells using a low-cost egg decorating kit or... use 3/4 cup water, 1 tsp. of vinegar and several drops of food coloring to create your own dye. Leave the eggs in the dye until you achieve your desired color. Let dry completely on paper towels. Once dry, crumble the egg shells and glue in place as you desire. Let dry overnight.

Other decorating ideas:
glitter glue

confetti

tissue paper pompoms
Or, just use as a coloring page!

---
from preschool easter crafts to home page